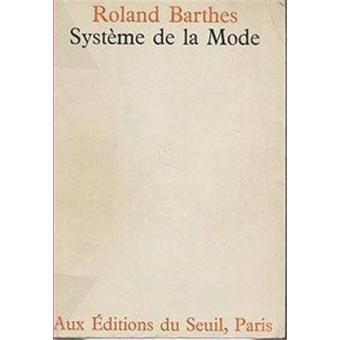 Left: Perpetually sleepy wearing Equipment shirt, Cartier watch, vintage coat (similar). Right: Système de la Mode by Roland Barthes
"Calculating, industrial society is obliged to form consumers who don't calculate; if clothing's producers and consumers had the same consciousness, clothing would be bought (and produced) only at the very slow rate of its dilapidation."
– Roland Barthes
A Fear Of The Clownesque
Is it just me, or is the current big theme of fashion centred around a flamboyant, fast-paced madhouse of frills, prints and exaggerated cuts, initiated by last season Gucci and currently followed by many? I am willing to incorporate some trends in my way of dressing (especially if their quality and cut allows me to wear them for a longer period), but I am at a loss of how to get away with trumpet-sleeves the size of my head and gold nylon disco shorts with embroidered flowers on them. We have known many decades of slightly more over-the-top fashion (the flamboyant seventies, the colour-crazed eighties), but I find the current trends lacking a bit of substance, and on the verge of simply becoming… clownesque.
Personally, draping myself in some of these over-the-stop styles out there will not make me look any more graceful and simply will not look good on my body. The slightly clownesque features of some of these garments will rather evoke laughter rather than admiration. The current and previous collection by Gucci show what I am talking about, and of course now Zara, H&M and Mango (and nearly every full-time fashion blogger I follow to some degree) are at it.
Long story short, I am feeling slightly uninspired when it comes to clothing at the moment. I want something clean and simple, that does not tire me or becomes outdated after merely one season. I am still thinking of investing in a nice black linen wrap dress, and perhaps a new pair of beige Castaner espadrilles for the warmer weather (especially since I have been wearing my black pair all over summer – read my review here), and I want to wear them for four seasons, instead of merely one. I want a straight-cut white shirt without frills, and without ironic clown collars that reach up to my ribs. I want jeans without patches, ripped knees and embroidered flowers on them. If I keep saying it long enough and search long enough, I might just run into some sartorial inspiration and editorials that will give me a desire to explore fashion again.
On another note, in an attempt to resaturate my fashion senses, I borrowed Roland Barthes' The Fashion System and The Language of Fashion from the university library. The former deals with his semiotic theory, but adapted to the changing signs in fashion, the latter one is a bundle of his essays, articles and general writing on the topic of fashion. If I am unable to interpret fashion and its trends at the moment, I might as well put in some effort and try to understand Barthes' underlying system of it.
P.S. On a positive note; I am picking up the new edition of The Gentlewoman later this week, and am looking forward to seeing something refreshingly simple and aesthetically pleasing.